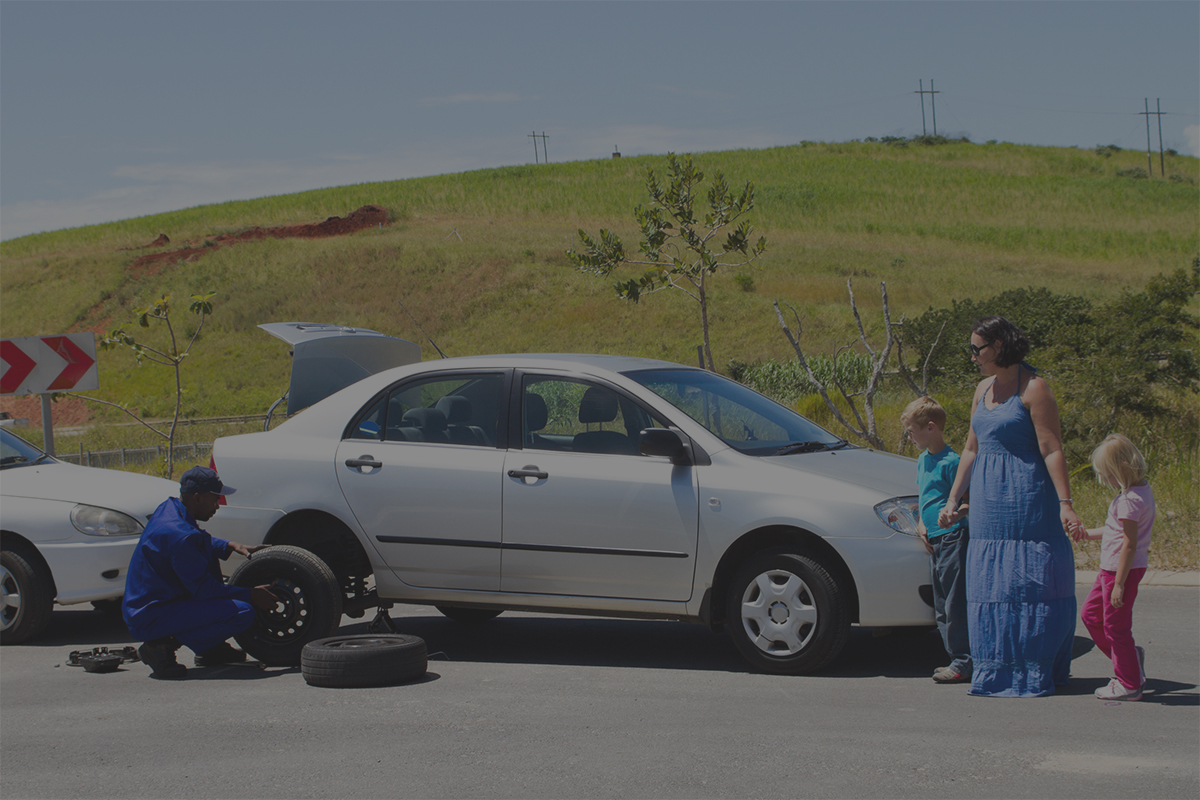 10 Apr

Can I call someone to change my flat tire?
Can I call someone to change my flat tire?
 It's so annoying to end up on the side of the road with a flat tire. But that happens frequently, especially where I'm from. The winters are terrible on our roads creating potholes after every thaw. And you know what potholes cause? Yep, flat tires! In fact, according to Carfax.com, seven drivers suffer a flat tire every second. If this happens to you, you may be asking yourself, "Can I call someone to change my flat tire?"
Can I call someone to change my flat tire?
It can be dangerous to be stuck on the side of the road with a flat tire. Between extreme weather conditions and traffic, there is always a risk that another vehicle may hit yours. So, our advice is to call someone as quickly as possible to fix your flat tire. If you're a new driver who's never experienced a flat tire, or you just need a refresher course, this article will tell you all you need to get you back on the road quickly. First of all, we'll tell you who to call in case of a flat. We'll go into how much it will cost for roadside assistance. And we'll answer some questions about if it's OK to call the police directly or call 911 for a flat tire. And lastly, we'll tell you what to do if you have a flat and no spare. So come along for the ride as we answer all of your flat tire questions!
(Stuck at home with a flat tire? Check out this article on how to fix a flat tire at home!)
Who can you call when you get a flat tire?
If you have a roadside assistance plan, then you should call them first. It's a good idea to keep your membership information saved on your phone if you do have a roadside assistance pre-paid plan. But, if you don't, there's no reason to worry. There are many on-demand services and independent providers that don't need tow truck services to help you.
Here are some other ways to get help.
If you are in a true emergency situation, do not hesitate to call 911. 

Use the Mach1 Services app to reach a local non-emergency police department.

Check the back of your driver's license for state-provided roadside assistance. 

Google for help using a search like: "emergency tire service."

Use the Mach1 app to find the closest provider to you at fair market prices
How much does it cost for roadside assistance to change a tire?
Roadside assistance plans offer "free" tire change. Many plans ranges from around $52 to $119 per vehicle. But many times, there will be an additional fee for service. Be sure to check the fine print as you may only be allotted so many tow miles or certain services. Personally, I've had a $9/mo plan and still had to wait four hours for help and still got a bill at the end of it. Remember, either way, you'll still have to get the damaged tire repaired or replaced, so that will be another expense. Just make sure you check your roadside assistance plan because they may be eligible for reimbursement of the tire repair.
There are also on-demand options like Mach1, that offer pricing at fair market prices and free membership. Their prices for flat tire service range from $55-$70 and are paid only as needed. 
Don't want to break the bank on a flat tire? Learn how to change a flat tire here!
Can you call the police to change a tire?
Yes, it can be a good idea to call the police to help you with a flat tire, especially if you are in an unfamiliar, possibly dangerous area, or if your car is blocking traffic. The police will be able to put flares around your car so that other drivers will see it, and luckily, they are trained to change tires. If you need police assistance but it is not an emergency you can use the Mach1 app to contact a local non-emergency police department. 
Can you call 911 for a flat tire?
65% of 911 calls are for roadside assistance. NOT all of these people have true emergencies. If you are in a true emergency, stuck on the side of the road with a flat tire, you should never hesitate to call 911. But if you are in a safe situation you may want to source your own roadside assistance provider as you'll have to pay the provider the police find you anyway. If you do need to call 911, the police will wait with you until a tow truck or other help arrives.
How do I get state-provided flat tire assistance?
Many states have their own programs to help rescue stranded motorists. The easiest way to find out if your state has one is to check the back of your drivers license card. If your state has a program, there will be contact information on your drivers license. Many times these programs help you get roadside assistance. They'll call the police for you, and then the police will call their local roadside assistance provider. If you aren't interested in doing your own research to get help this could be a good option for you. Keep in mind that you'll be responsible for the invoice from whichever provider the police find for you.
How can I find my own roadside assistance provider for my flat tire?
Doing search engine research will give you many options for roadside assistance providers. You could use searches like, "roadside assistance," or "breakdown assistance." You'll want to consider safety if you go this route as many companies do not background check their providers. You'll also want to ask about hidden fees and upfront fees. Make sure to also ask if they can actually help you right away as many times providers will, "stack" calls. This means they'll accept your job, but they won't actually come to help you until they finish with other jobs first. 
The new way to get roadside assistance help.
The days of needing to call and wait on hold while a dispatcher finds you roadside assistance are over. Utilizing the technology Mach1 has built, companies are now offering on-demand roadside assistance. You can even get fuel delivery service! This pay-as-you-go model saves most people money as they rarely need to use their paid memberships. You don't need to call anyone. You simply open the Mach1 phone app and select the service you need. The automated dispatching system finds you the closest service provider and they are dispatched to you in real-time. You can even track them and call them directly without the need of a call center representative. So while the old ways of getting roadside assistance are still there, you may want to consider this new model to save time and money. 
How much does it cost to change a flat tire on your own?
There are a few items you'll need if you'd like to change your own tire. Before you consider doing this, you'll need to make sure you're in a safe location away from traffic or other hazards. Here's a quick list of what you'll need to have on hand. Make sure you have a jack, a floor jack is best if possible. You'll also need a lug wrench and if you have wheel locks, you'll need the keys to unlock them, safety flares or flashers, and of course your spare tire. Make sure you check that the spare is properly inflated before putting on your vehicle. And remember, not all cars come with spares anymore so you may want to invest in run-flat tires. This is another time you should consider calling your local non-emergency police department for assistance. If you don't have a spare, you'll need a tow truck to take your vehicle to a local tire shop. Companies like Mach1 will soon be offering a universal spare rental which will save consumers money on tow truck fees.
Here is a price list of everything you need if you're going to change your own tire:
Electric Car Jack $75.99
Repair Kit including air compressor, jumper cables, glow sticks, and other safety items $88.97
Lug Wrench $13.99
(Check out the best flat tire repair kits out there in this sweet article!)
What do you do if you have a flat and no spare?
If you don't have a spare tire, you could attempt to repair the tire on your own. But I wouldn't advise that; it can be very dangerous to try to repair your car on the side of the road. As we spoke above, your best bet is to call for roadside assistance, either from a dedicated company like Mach1, or another already purchased a plan, or from a tow truck, your state, your local police, or 911. It's useful to do your research on how a tow truck works before you go on that long driving trip. Decide on your ideal method of getting help and be ready to put that plan into action. And please make sure your cellphone is fully charged before you head out on the road.
Prepare and stay safe.
Well, now you know what to do if you get a flat tire and are stuck on the side of the road. If you need help, we've given you a few options. We've also priced out how much it will cost for roadside assistance. And brought you up-to-speed on the new on-demand and automated options. Enjoy the road and safe travels.